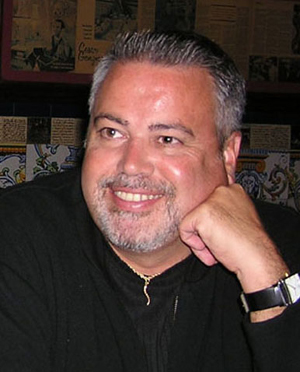 John Shevlin Jr. was born and raised in Western Massachusetts. He moved to southwest Florida after graduating from the University of Bridgeport in 1979. He holds a Bachelor of Fine Arts degree in Graphic Design.
John worked for 20+ years as an art director for an ad agency in Tampa, FL, but grew tired of all the technology based tools. So he returned to painting, and after picking up a paintbrush and canvas, found his true calling. He's dubbed his unique style "Tropical Funk"; it's bold, it's graphic, it's colorful and simplistic in style.
"Often I see a vision and need to put it on canvas. I don't sketch anything," says Shevlin, "I go directly to the canvas with brush in hand. I believe there are no mistakes in painting, just things that make it original."
His flamingos, penguins, funky fish and martini works. Color and form set the tone for his palms and hibiscus – sometimes more pop art than whimsical. His style often takes on an Aboriginal feel, both primitive and simple, with bold colors and patterns creating the focal points. Materials used include fluid acrylics mixed with metallics, a technique that leads to a unique texture and feel.
John continues an association with many fine galleries, and participates in art shows throughout the southeast, many in the country's top 100. He's won numerous awards in Art Direction, Concept and Design, as well as many Patron Awards. Several of his works have been purchased internationally.
As for the future, John's goal is as bold and straightforward as his art, "I hope to continue to be personally and creatively inspired!"